(Head office: Chiyoda-ku, Tokyo, CEOs: Seiji Nishino and Kosuke Michibata, hereinafter referred to as "Brain Sleep") has launched a "zero-waste system" for its self-developed pillow, the Brain Sleep Pillow (hereinafter referred to as "Pillow"), which allows users to recycle their old Pillow and purchase a new one at a discount. The "Zero-Waste System" will be launched on May 12 on "zzzzLand," an EC site run by Brain Sleep specializing in sleep products.
The collected pillows will be 100% reused as raw materials for manufacturing new pillows, which is a unique approach for a D2C (Direct-to-Consumer) business specializing in online sales, and the first attempt for a D2C bedding brand.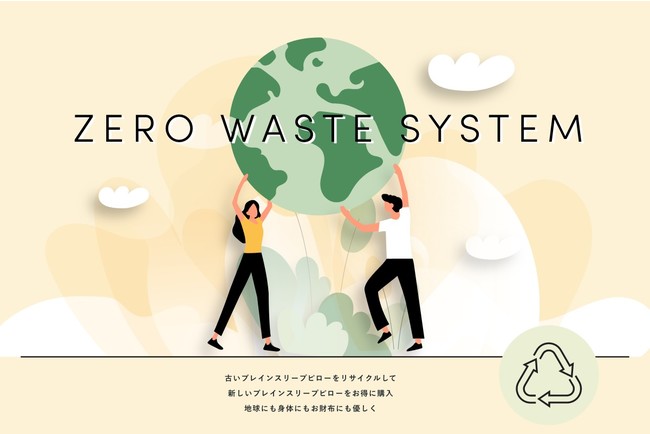 Outline of the Brain Sleep Zero-Waste System
Start date: Wednesday, May 12, from 10:00 a.m.
Purchase price for recycling: 22,000 yen (tax included)
Only for those who have already purchased the Brain Sleep Pillow once, return shipping included, pillow cover included
URL: https://www.zzz-land.com/shop/pages/sustainable.aspx
This system allows you to purchase new pillows at a discount in exchange for your old ones.
The old pillows are sent to a designated location, and 100% of the material is recycled through a special process.
The recycled material is then used to manufacture future pillows, making this an earth-friendly recycling system.
The zero-waste system is possible because it is a one-of-a-kind machine.