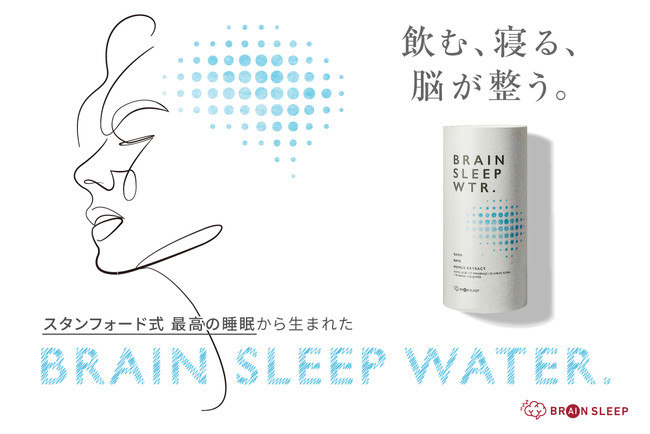 Brain Sleep Co., Ltd. (Head office: Chiyoda-ku, Tokyo, CEOs: Seiji Nishino and Kosuke Michibata, hereinafter referred to as "Brain Sleep") will release "BRAIN SLEEP WATER" on May 26 (Wed.). It is a functional water that brings all the wisdom of Brain Sleep, at "zzzLand," an e-commerce site specializing in sleep products run by Brain Sleep.
"Features of "BRAIN SLEEP WATER
1. Contains NMN, which generates essential energy for all human activities

NMN is a substance called beta-nicotinamide mononucleotide, which is contained in the vitamin B3 group and is present in the cells of all living things. It is believed that aging of the human body begins when the body's ability to produce NMN decreases with age, resulting in the loss of the ability to repair various bodily functions.
2. Contains GABA and hummus extract, which are necessary for modern people who live in a stressful society

It is said that modern people are chronically deficient in GABA, and the amount of GABA stored in the body tends to decrease due to stress, accumulated fatigue, and aging. GABA is said to function in relieving stress, reducing fatigue, and improving sleep. In addition, fulvic acid, a natural organic substance extracted from nature, has been shown to have various functions that benefit health, including antioxidant, moisturizing, anti-inflammatory, and mineral supplementation. Fulvic acid contains minerals, amino acids, vitamins, and enzymes.

3. It is made with natural water, additives free, caffeine free, and sugar free.
"BRAIN SLEEP WATER" Product Overview
Product name: BRAIN SLEEP WATER
Set Price 15 bottles: 4,860 yen (tax included) 30 bottles: 9,234 yen (tax included)
Contents: 190 mL
Nutrients per bottle: GABA: 100mg, Hummus extract: 380mg, NMN: 100mg, Lemon extract (from Setouchi area)
URL: http://brain-sleep.zzz-land.com/products/brainsleepwater
How to take: Take one bottle a day and drink it at your favorite time.
The NMN used in BRAIN SLEEP WATER is more than 99% pure, and is made from high quality and safe raw materials.
【Company Profile】
Brain Sleep, with Seiji Nishino, Director of the Stanford University Center for Sleep Sciences and Medicine, as its President and Chief Research Advisor, has been operating under the slogan "The best sleep for the best life. BrainSleep was established in May of 2019 under the slogan, "The best sleep for the happiest life. The company mainly provides sleep consulting and IT services to companies specializing in sleep, and disseminates sleep information based on medical evidence. We aim to eliminate the sleep debt of the Japanese people, who have the shortest sleep hours in the world, and lead them to improve their lives.